Happiness is like those castles in fairytale whose portals are shielded by dragons and one must battle in order to conquer it. Somewhere in our lives we have put our foot in fairy tales to find that magical place where all wonderful things happen without any heartbreak. Sometimes we need to set aside our intelligence and dive into the magical world of far far away.
Over years, real places, whether natural wonders or man made marvels inspired the fairytale movies of Disney, Harry Potter and Game of Throne. Discover the treasure trove of fairy-tale locations around the world which are not really far-far away and must visit destinations.
1. Neuschwanstein Castle, Germany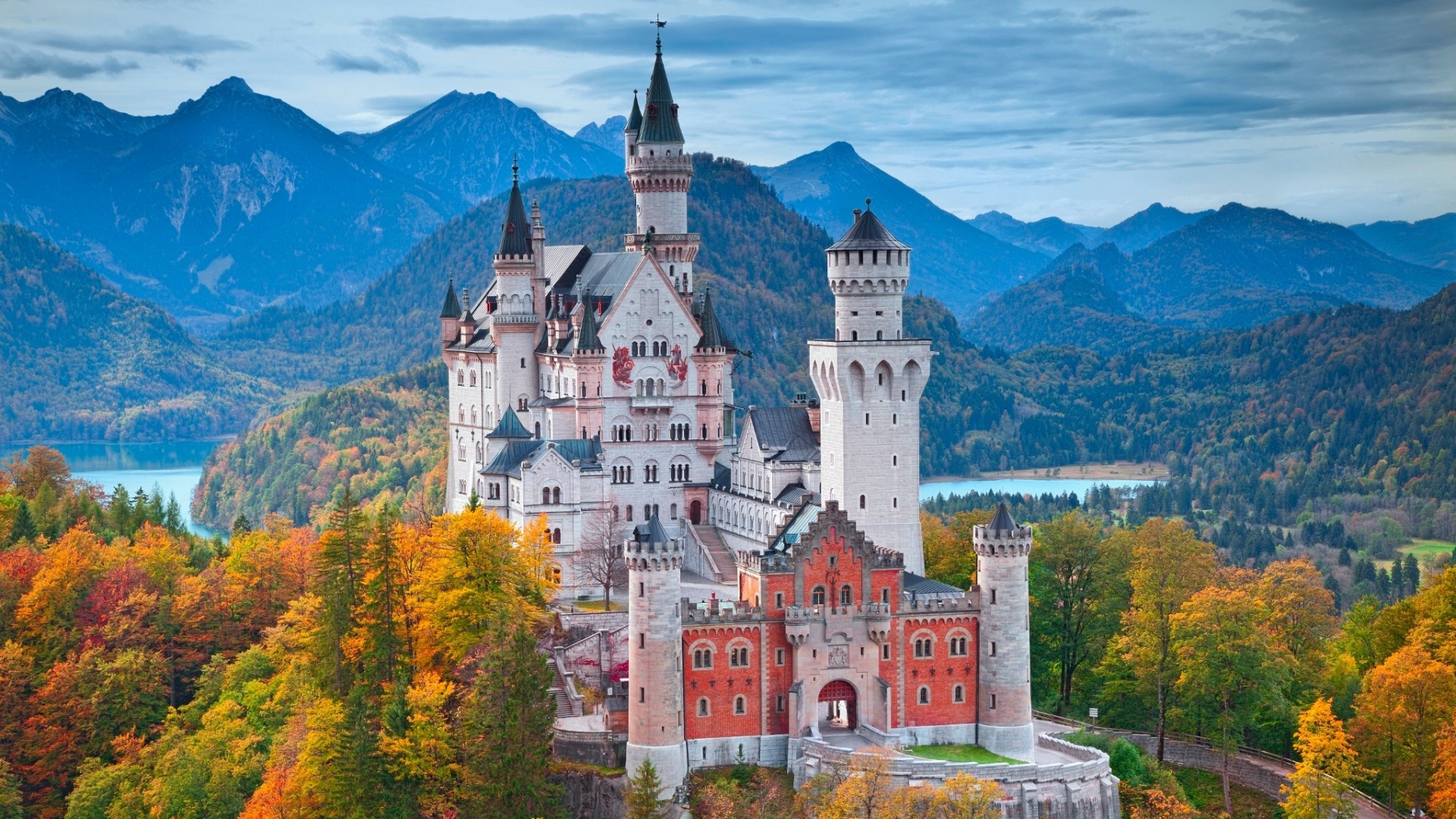 Location: Fussen, Germany (2 hours train ride from Munich)
Why it's worth it : Neuschwanstein Castle, Germany is one of the most inspected castles situated in the Alps in Bavaria, close to the town of Fussen. Fairytale appearance of this castle inspired Walt Disney to create the Magic Kingdom's famous 'Sleeping Beauty Castle'.
This paradox fortress was built by King Ludwig II of Bavaria, popularly addressed as the "Fairytale King" in the 19th century, when castles no more had strategic and preventive intents. This magnificent castle is encircled with exceptionally charming panorama. This castle accrues its name from Richard Wagner"s opera character the Swan Knight. Fabrication of this imperial castle began in 1869 however Ludwig II desired the castle to be flawless, therefore this gigantic structure was not completed even at the time of his death in 1886.
Getting There: If you are in Germany, you must not skip this beautiful destination. Catch a Regional Express (RE) to Fussen from Munich central station, which departs every 2 hours on workdays. The train ride takes about 2 hours and 5 minutes. From Fussen train station, the castle is a 10 minute bus drive.
Guidance for Sr. Citizens: The ticket counter is about few meters from the parking lots at the bottom of the hill. Way to the castle is long, steep hill with 30 mins walk. Therefore if you have walking difficulty, spend few Euro on horse-drawn wagons or motor coach , that moves slowly to the Castle gate. Tickets are sold for a specific entry time and your time slot will be displayed at the main castle gate. If you miss that time, you have to go down to the counter to exchange it for a different timing. During a 40 mins guides tour inside the castle, you have to climb stairs at a fairly brisk pace, which can be a problem for senior citizens, specially those with orthopaedic problems.
Near By Attractions: King Ludwig's two castles — Neuschwanstein and Hohenschwangau — are near each other not far from Fuessen, the southernmost town on the Romantic Road. A single ticket center serves them both; one road from the center leads up to Neuschwanstein and the other up to Hohenschwangau.
2. Pena National Palace, Portugal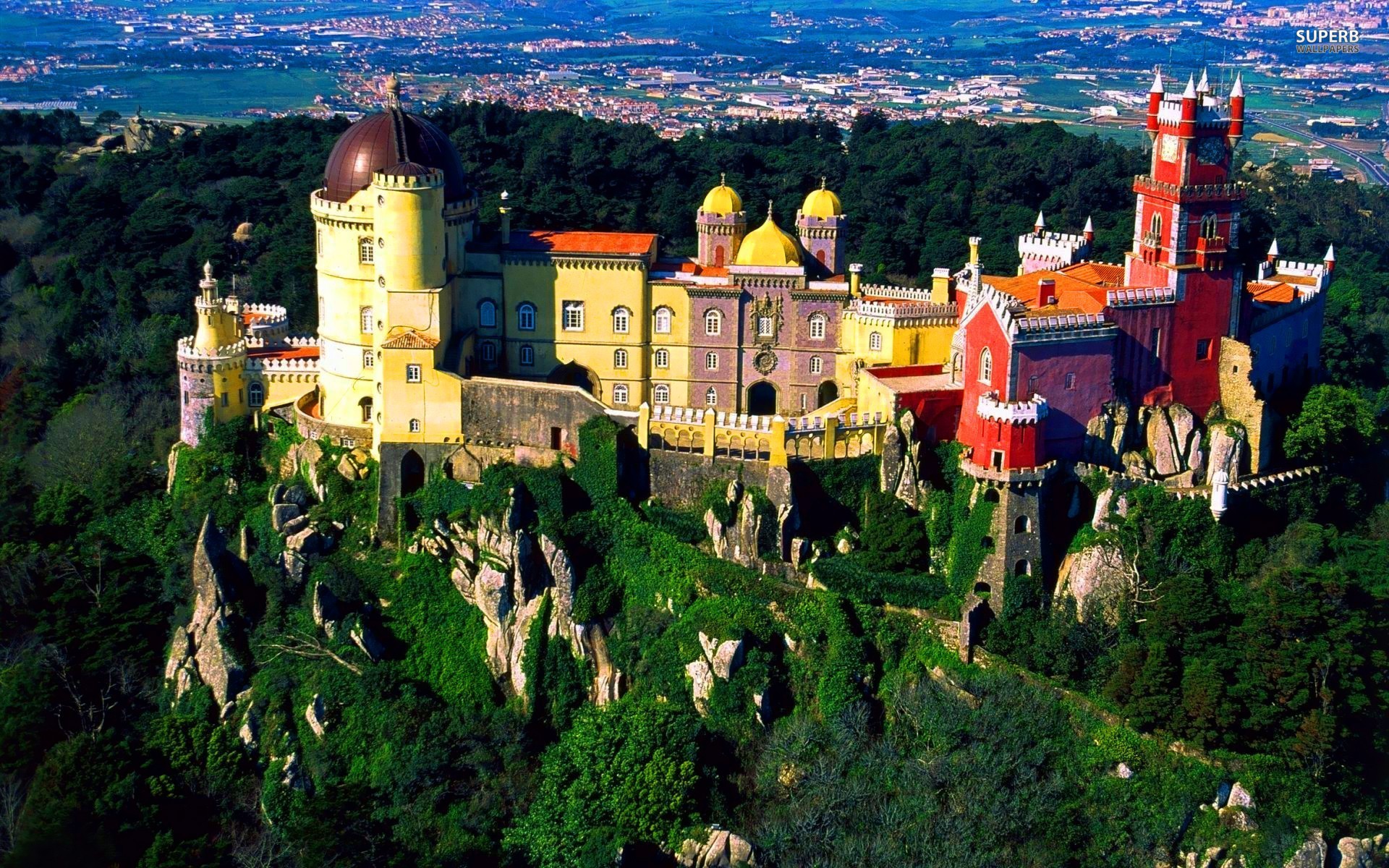 Location: Sintra, Portugal (40 mins train ride from Lisbon)
Why it's worth it: Pena National Palace, Portugal is one of the most figurative and entrancing spot in Portugal. Nestled high on a mountain top above the quixotic town of Sintra, this palace is a protected national monument and best example of nineteenth-century Romantic architecture. In 2007 this chateau was recognized as one of the Seven Wonders of Portugal and also won a designation as a UNESCO World Heritage Site.
It is believed that King Ferdinand brought transitional changes in the outlook of this palace which became a favoured retreat of the Portuguese royal family, who use to head for the cool hills of Sintra every year to evade the heat during extreme summer months.
After the Republican Revolution in 1910 the Pena palace was opened to the public as a national museum and later it became one of the country's most visited monuments . This spectacular palace is an enticing amalgamation of history and architectonic inheritance. The grit and pastel colors of its exterior's along with its magnificent position, dawning from the luxuriant verdure soaring over the town and hills of Sintra makes this palace a must-see destination.
Getting There: Taking the local train from Lisbon - Rossio Station is the easiest and most cost-effective way to travel to Sintra railway station. Train leaves every 20 minutes, From the Sintra station, take bus 434 or tram paying 3 Euro. Better to purchase a 24 hours validity round-trip train and bus combination ticket at the railway station.
Guidance for Sr. Citizens: The palace can be covered as a day trip from Lisbon. You may either take a coach tour organized by local tour operator or travel by train from Lisbon to Sintra. To avoid crowd and get the best view, prefer visiting the palace before 10 AM or after 3 PM. There is a Sr. Citizen discount of appx 15-20% on entrance ticket price. Bus from Sintra railway station delivers you uphill close to the Pena Palace where a mini-bus will be waiting to take you up to the entrance gate of palace. Tour inside castle needs walking, on cobblestones, and climbing stairs. The steps are manageable and spacious. So unless you have severe knee problem, do not miss this breathtaking attraction, for whatever the effort involved, it certainly is worth every ounce of it!
Near By Attractions: If you manage some extra hours after completing Pena National palace, do no miss the Magical Fern Garden in the mystical 500-acre Pena Park surrounding the palace. Take a bus and then go for a pleasant walk up a woodland path without being too strenuous, to the incredible medieval castle - Moorish or Moor, famous for its spectacular hilltop location and panaromic view.
3. Sea of Stars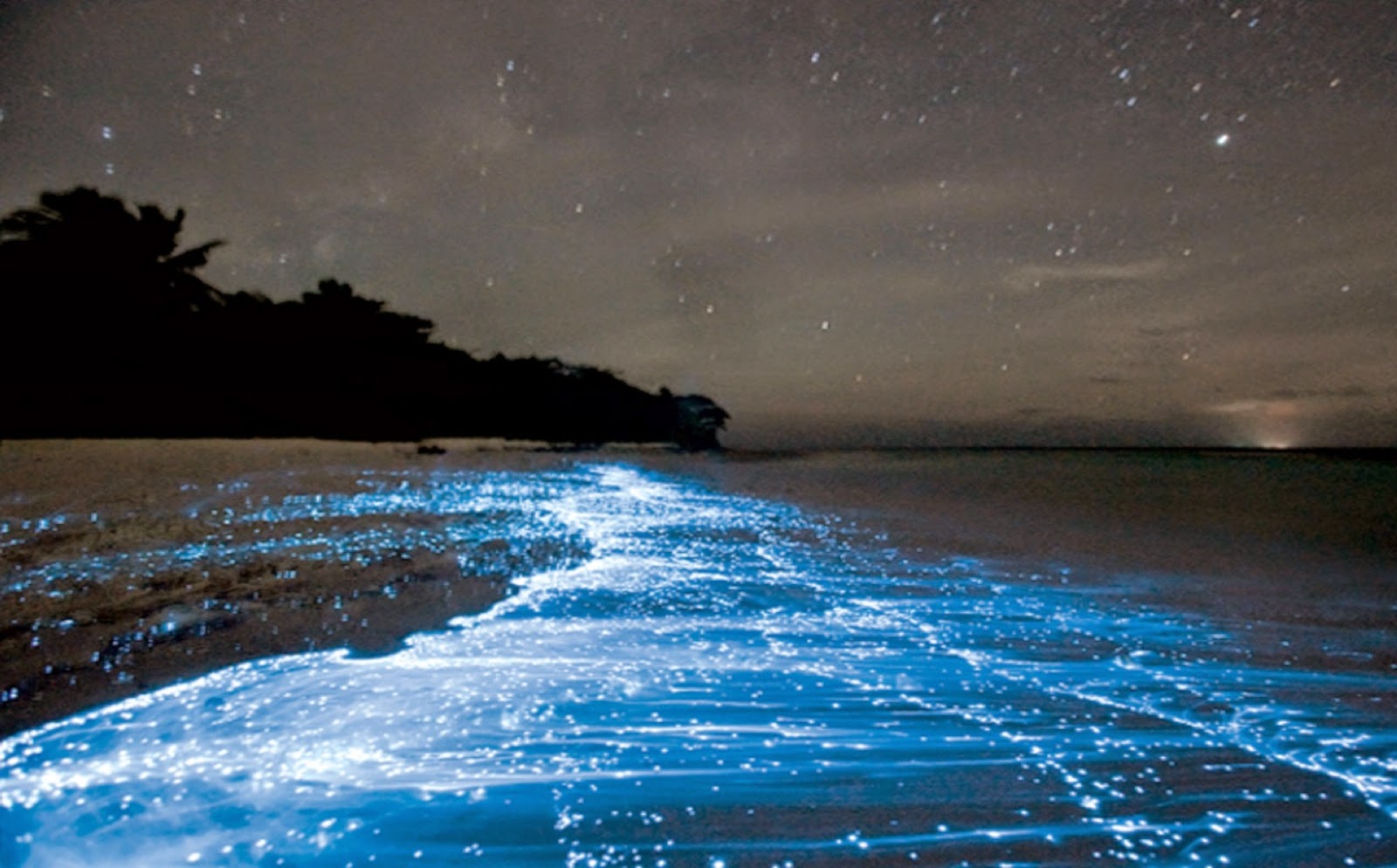 Location: Vaadhoo Island, Maldives
Why it's worth it: It appears as a mirror image of a sky full of stars. The absolutely breathtaking bio-luminescence effect on the shore is created by the marine microbes called phytoplankton. A night walk on this beach, encapsulates everything you'd imagine to be in a fairy tale.
Getting There: Vaadhoo Island is accessed by private speedboat/sea plane from Male International Airport. You can also take a private speedboat ride from the surrounding island resorts.
Guidance for Sr. Citizens: Maldives is tropical island and famous for white sand beaches, turquoise blue sea and astonishing coral formation. It's a perfect leisurely holiday destination for Sr. Citizens. The only word of caution would be about the speedboat ride between islands. For a person suffering from back pain, the speed boat ride might turn to be strenuous. Also be careful while getting in and out of the boat at Jetty and ask for somebody to help you while boarding.
Near By Attractions: Male, the capital of Maldives can be explored via speed boat. Traditionally it was the King's Island, from where the ancient royal dynasties ruled and constructed their palace. The city was then called Mahal. Formerly it was a walled city surrounded by fortifications and gates (doroshi).
4. Colmar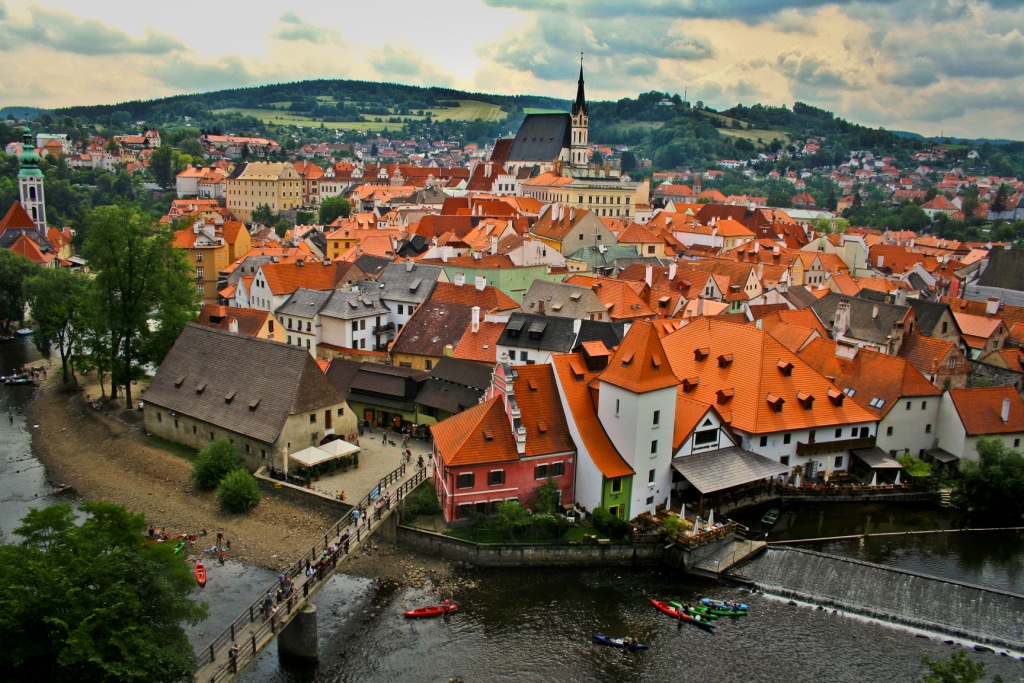 Location: Colmar, France (2.5 hour train ride from Paris/ 3.5 hour train ride from Zurich)
Why it's worth it: This picturesque city is located along the Alsatian wine route and is labelled as the "capital of Alsatian wine". Its medieval architecture, traditions, and cultural enthusiasm, makes Colmar a perfect place for a family vacation or romantic getaway.
Largely saved from the annihilations of the French Revolution and the wars of 1870 and 1945, the panorama of old-town Colmar is consistent and illustrious among tourists. The Venice-like canal streets are lined with bright medieval half-timbered houses makes it to be addressed as "little Venice".
Getting There: Colmar is at 2 hours train ride from Paris. It lies between Basel and Strasbourg. If you are in Paris, plan full-day tour with night stop over, to Colmar.
Guidance for Sr. Citizens: Seniors can get around on foot in Colmar, one of the most attractive towns in Alsace, with no difficulty.
Near By Attractions: Alsace wine is famous worldwide, and wine production is one of the region's main activities. Visit Alsace vineyards which are located along the eastern slopes at the foot of the Alsace village.
5. The Hoodoos
Location: Cappadocia, Central Anatolia, Turkey
Why it's worth it: Historical Cappadocia region in Turkey is famous for its hoodoos, or fairy chimneys , which have been created from amalgamated volcanic ash called tuff. Cappadocians have inhabited the storybook dwellings for thousands of years – literally carving their homes into the unique rock formation. The natural wonder, fairy chimneys" can be found in various shapes such as cones, mushroom-like forms, columns and pointed rocks. A Hot air balloon flying over Cappadocia region, gives a panoramic view of unusual yet staggering landscape of honeycombed hills and towering boulders of otherworldly beauty.
Getting There: Cappadocia is an easy flight from Istanbul (just over an hour). To cover the place well you need atleast 1 night stay with 2 full day to cover north and south Cappadocia. You may also book a 2 Days -1 Night guided tour from Istambul to cover the region well.
Guidance for Sr. Citizens: Most of the cave churches involve some level of stairs, plus the sandstone can be slippery. Hot air balloon is a magical opportunity to experience sunrise over one of the most distinctive landscapes in the world, but it comes with some safety guidelines, specially for elderly. From the boarding platform, you need to jump inside the basket, which is about 2 ft height and the balloon itself not being stable in nature while on ground, makes the action bit difficult for old age. So be careful, do not hurt yourself during this act.
Near By Attractions: Cappadocia has a fascinating history, with churches from the time of Alexander The Great, Roman ruins, ancient monasteries, and multi-level underground cities! Must explore the underground city of Derinkuyu , which is 200ft below ground. Not very from hoodos there is a spectacular landscape known as Göreme National Park . It is entirely sculpted by erosion, the nearby Göreme valley and its surroundings contain rock-hewn sanctuaries that provide unique evidence of Byzantine art in the post-Iconoclastic period.
While many of the fairytale destinations are difficult to cover by elderly people, because either it needs walking up hill or through a rough terrain, still if you are at your 65 or below, not suffering from any severe knee or back pains, you must visit these spectacular man made or natural imaginations.
Twenty years from now you will be more disappointed by the things you didn't do than by the ones you did do. So throw off the bowlines. Sail away from the safe harbor. Catch the trade winds in your sails. Explore. Dream. Discover. – Mark Twain