Long back I had read that "the secret of genius is to carry the spirit of child into the old age". So I decided to relive my young, carefree days once again, eat interesting food, dig some interesting people, have an adventure ! Brimming with excitement I finally set off on my first international trip - The Fantasy Land Singapore.
I met with my enthusiastic tour manager from 50+ Voyagers right at the Bangalore International Airport. As soon as our flight landed in Singapore, the excitement in me was at its peak, Changi International Airport is a destination in itself. The wide range varies from gifts, retailers, bookshops, fashion boutique, and electronic shops which are open round the clock. At the airport, I met with my co-travellers from Delhi. On the way from the airport till my hotel the city appeared like a fairytale destination with clean roads, no honking and perfect traffic management without any visible presence of traffic police.
Night in a Zoo
The major sight on our agenda for Singapore was Night Safari, an unique zoo experience, which let us walk around on trails in a cage-free environment. The zoo is divided into seven geographical zones, which we explored on foot and by tram. It was impressive that animals were separated from visitors with natural barriers, rather than caged. Instead of vertical prison-like cages, cattle grids were laid all over the park to prevent hoofed animals from moving one habitat to another. We enjoyed our dinner at 'Ulu Ulu Cafe'.
Once you land in Singapore after overnight flight from India, take a an afternoon nap to make yourself fresh for the Night Safari which continues till late night.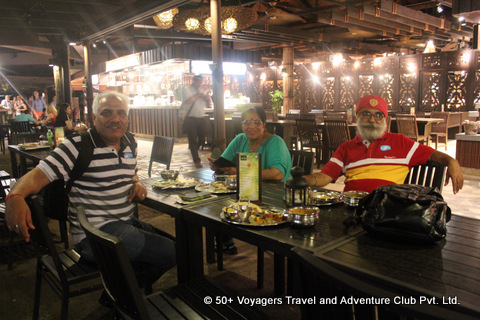 A Day Out at the Fantasy World
Next day, 50+ Voyagers had arranged a private car to Sentosa Island which saved a lot of time and helped avoid the hassles of the coach tours. Being an Indian I have a habit of interacting with new people, so I asked the driver about the uniqueness of the attraction I was heading for. To my surprise this driver not only explained the significance of Sentosa but also narrated the history of Singapore, the vision to make it a world-class city 50 years back, like a true patriot using terms like "My Singapore'. Talking to this driver made me realize that even though I was in a foreign land but the concept of 'Attithi Devo Bhavaha' is universal which binds the world as one big family. Journey into Sentosa through the Cable Car soaring high above Faber peak was not only scenic but also provided me priceless panoramic view of Singapore City and Harbour.
Irecommend visitors to Sentosa, not to miss this unique experience of Cable Car from Faber Peak.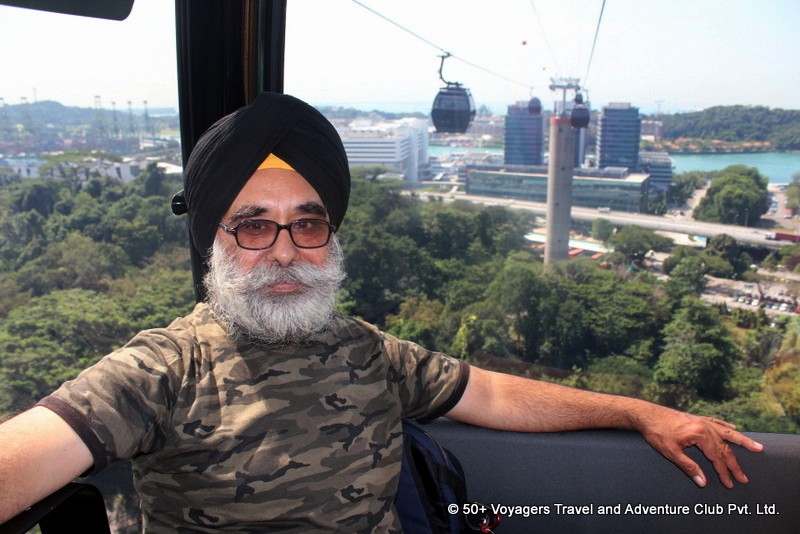 At S.E.A. marine aquarium, open Ocean experience took me into the magical realm of gentle giants like Blue Spotted Stingray, Mantra Rays, Sharks and many other sea creatures. During my visit to the 'SeaWorld', I loved standing on a walking escalator which took me through the water world of sea creatures so comfortably. Alas! Singapore is so Senior Citizen Friendly. Never in my life had witnessed so many beautiful underwater creatures together.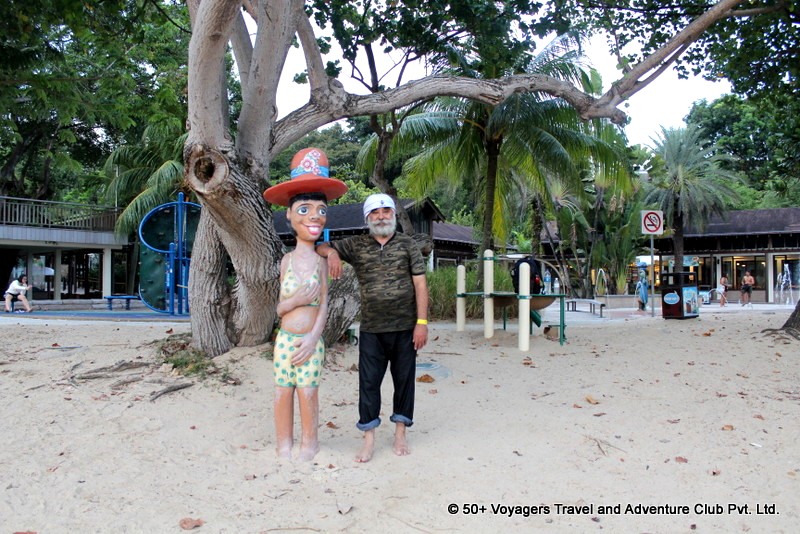 Does Age Quash Our Spirit of Adventure? No ! If you love adventure, you must experience the thrill of 4D Adventure land's 'Extreme Log Ride', which gives the same excitement as a roller coaster ride minus the stress on body!
Sentosa island has numerous activities and attractions, while not all of them are suitable for Senior Citizens, 50+ Voyagers had selected and planned all suitable activities and adventures for us beforehand, to ensure that we enjoy a rightly paced day-out at Sentosa to the maximum.
The City of River and Tree
On the 3rd day, we had half a day at leisure for shopping and relaxation after which we started on an afternoon cruise on Singapore River. We strolled through the lovely walkable area on the waterfront to reach the departure point of the Singapore River Cruise . The contrast between the historically old architectural buildings and the amazing modern ones was fascinating to watch. Gradually we crossed, Marina Bay, Boat Quay, Clarke Quay and the legendary Merlion Park symbolizing the spirit of Singapore.
In the era of global warming Singapore has really taken an impressive initiative to raise the quality of life by enhancing the flora in the city. Attractions like 'Garden by the Bay' and its 'Cloud Forest' and 'Flower Dome' are perfect examples of that initiative. While on cruise, we hopped-off at Marina Bay Sand and walked through Marina Shopping Mall and Hotel to the stunning Supertree Grove. As night approached, Supertrees came alive with a glittering array of lights. If you are not afraid of height, you must try the OCBC Skyway , a hanging walk connecting the Supertrees, for a dramatic view of Singapore skyline. With a perfect symphony between the sunset and the laser lights, the entire surrounding was so mesmerizing that I was falling short of words in praise of lord who gave me an opportunity to witness wonders of the world.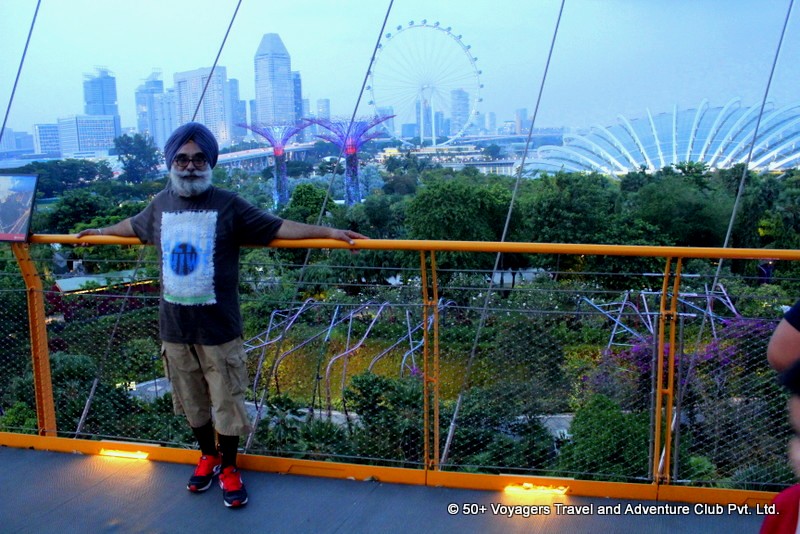 I believe Garden By The Bay with Supertree Grove and OCBC Skyway are top attractions for any visitors to the 'Lion City'. It takes about 3-4 hours to complete all the enclosures, so don't rush through the attractions and try to explore at a relaxing pace. Advantage for us was that our tour coordinator guided us for the best experience. Best time to visit is between 4-7 PM when the Supertrees lights up enigmatically at dusk and you enjoy the nice sunset by the bay.
The Movie Magic
I always believed that for small pleasures and keeping oneself young with enthusiasm it's important to keep the child in us alive. Age is not an excuse to stay away from fun and adventure. On my way from hotel till the entrance of Universal Studios I kept reminding myself that today finally I am going to live my dream and let the naughty child in me enjoy without restrictions.
Universal Studio consisted of seven themed zones around a lagoon. Each zone was based on a blockbuster movie or a television show, featuring their own unique attractions, character appearances, dining and shopping areas. We reached early before the park opens and witnessed some fantastic opening performances. The first zone immediately after the entrance is Hollywood, followed by Madagascar, Far Far Away, The Lost World, Ancient Egypt, Sci-Fi City and New York, in a clockwise direction.
I opted to avoid a few rides like 'Battlestar Galactica' owing to its extreme nature, but there were many mild to medium adventure rides available, like Jurassic Park Rapids which offer a perfect thrilling experience for people of my age group. Universal studio has lot to offer to Seniors in form of Simulation rides. 'Transformer the 3D ride' gave me exact feeling of a roller coaster without putting any physical stress on my body. The 'Transformers' were appear to be bouncing on and off my vehicle, fighting among each other while me being at the center with my mouth open the entire time. It's something I have ever experienced before. Next I visited the 'Magical Kingdom of far-far-land' where Princess Fiona, Shrek and Donkey invited me to their home and told the stories of their latest adventure. I am kidding…Yes, it was 4D Simulation Adventure, but trust me you will feel it is so real. Seats were vibrating as if I am inside the famous onion chariot of Shrek. Journey with Shrek concluded with jumps, bumps, bounces, air blasts and water spray - a true 4D experience.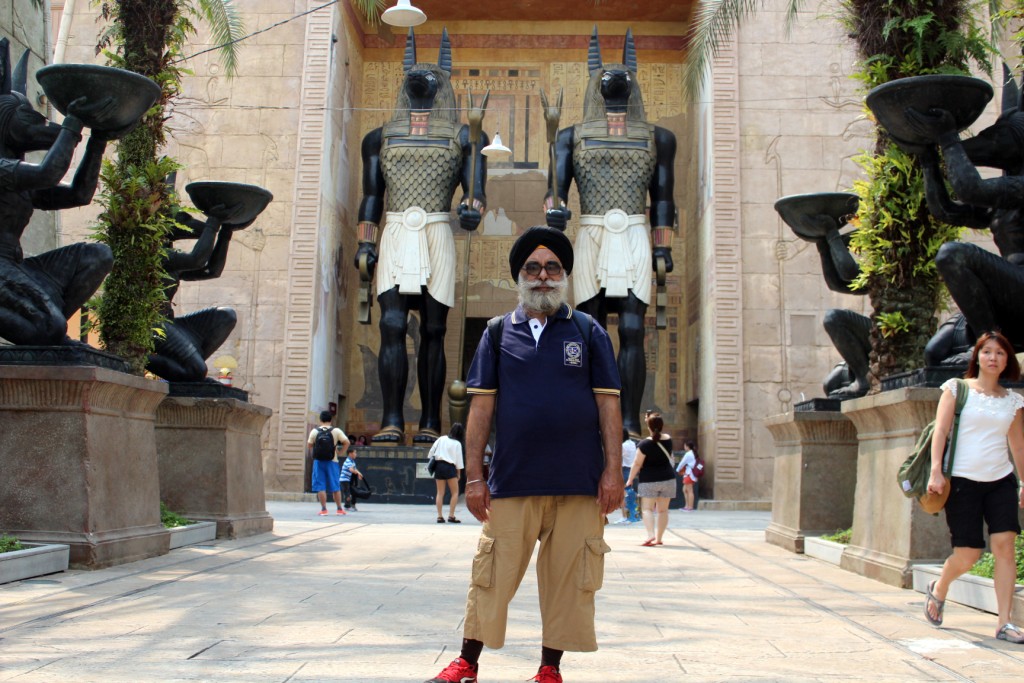 After Shrek I met Stephen Spielberg who took us through the live shooting of a hurricane disaster in New York City. A tidal wave of death-defying stunts, along with thrills and spills from real explosions of fire and water uplifted my soul at Water World . After the 'Water World stunt show' my tummy was grumbling and it was time to grab a bite at Central Cafeteria, where we tasted special Chinese Vegetarian Noodles.
I recommend Senior Citizen visitors to reach Universal Studio before it opens, in order to be at the front of entrance queue if you want to enjoy the opening performances, and to get ample time to cover the park at leisurely pace. As soon as you enter, take a note of the Live Stunt Shows like 'Water World', 'Stephen Spielberg - New York Hurricane' which commences only once or twice a day.
E ach ride or activity needs 20-45 mins waiting before you board. Don't carry any heavy items. Inside Universal Studio there are plenty of drinking water fountains and paid/free luggage vault to keep personal items before you take a ride.
I f you have any walking difficulties, you can pay SGD 20, to hire a wheelchair. All rides are wheelchair accessible as long as you can stand and walk a bit to board the ride.
During 5 days visit to the 'Lion City', we stayed at 'Little India' where I was surprised to see both young and old people enjoying good conversations over food till late night which reminded me of my college days. It is said that to make oneself instantly smile, shop till you drop and for a shopaholic like me little India was perfect as 'Mustafa', one of the biggest shopping malls of the city was walkable from my hotel. Staying in Little India never made me miss my own country, in fact I came across a 'Gurudwara' in this area named 'Central Sikh Gurudwara' where people were warm, friendly and followed system of self service in terms of food.
The Singapore tour being my 1st international travel, my family was worried of my safety, comfort and availability of vegetarian food. Having travelled with 50+ Voyagers earlier, I had full belief that these concerns will be well taken care off. 50+ Voyagers did an excellent job with an immaculate planning at the pace and comfort suitable for me. I wish 50+ Voyagers every success, so that more Senior Citizens can be benefited from their services.